Initially released in 2014 to add scripting capabilities to your favorite DAW, Plug'n Script has evolved into an integrated audio plug-ins development environment: native (compiled) scripts have been supported since 2015, and version 3.0 brings all the pieces together with a brand new workflow and VST plug-in export capabilities.
Let's see in details what this new version brings to the table!
New GUI & Workflow
The GUI has been fully redesigned, and it now proposes separate player and editor modes to streamline the workflow: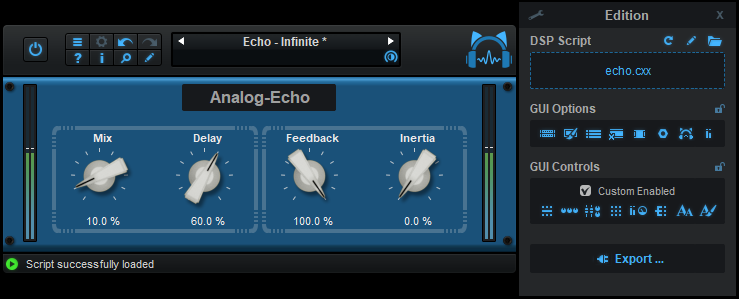 You can now also choose from many graphical options to generate the graphical user interface (GUI) for your scripts without having to write a single line of code: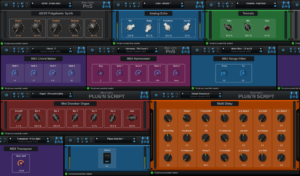 Also, another option has been included to associate a skin to your script and write your own layout with a subset of the KUIML GUI description language, with just a few lines of code:
VST Export
Blue Cat Audio has been developing audio plug-ins for almost 15 years: you can now leverage our experience in the world of VST plug-ins to build your own:
You can now export your creation as a independent VST plug-in with no dependency on Plug'n Script. There is no runtime required, and your exported VST plug-in will run with the same performance as any other plug-in (there is no overhead if you are using native compiled scripts).
Of course, the GUI generated by Plug'n Script can be included in the exported plug-in, or you can write your own from scratch after the export if you will.
More…
And there are many more improvements to this new version, such as a zoomable user interface, a new installer on Mac, new parameter display options… Check out the full list here.
Enjoy!