"A unique audio meter and side chaining tool"
Description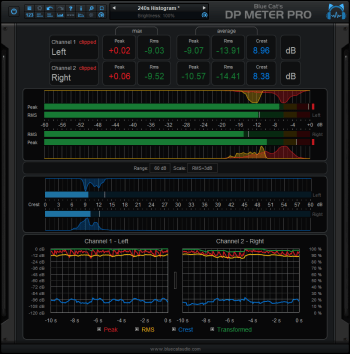 Blue Cat's DP Meter Pro (DPMP) is a unique audio analysis tool: it combines very flexible and customizable audio meters with advanced side chaining control capabilities thanks to its MIDI and automation outputs.
The metering capabilities of the DPMP plug-in let you control and monitor audio signals exactly the way you want: almost every aspect of the peak, RMS and crest factor meters can be customized. It proposes five different scales by default, including Bob Katz's popular K-System scales (K-12, K-14, K-20), and you can create your own.
Large colored statistics displays following your own scales are included for an overview of a track, while histograms give you a precise measurement of the dynamic range of the track. The graphs show the evolution of the audio envelopes over time, and the mid-side switch lets you verify mono compatibility problems and check the "stereoness" of your audio sources very easily. Whether you are working with mono, stereo or surround tracks, this plug-in will fit into your workflow.
All envelopes (peak, RMS, crest factor...) can be reused for additional monitoring or side chaining purposes: combined together, reversed, modified and recorded as automation curves or sent as MIDI CC messages, they can control other effects in real time.
The DP Meter Pro Tutorials explain how to use these unique capabilities in your favorite host. Possibilities are endless, from voice over and ducking to side chain compression, multiple tracks monitoring or dynamic stereo enhancement. It is also possible to control external MIDI hardware (such a synths, MIDI effects), video effects or lighting systems with an audio signal.









Price:
79 EUR or $99 (excl. VAT)

Add to Cart
Typical applications: Audio levels monitoring, crest factor measurement, dynamic range display, ducking, advanced side chaining techniques, signal-based envelope generation.
Features
Main Features
Multichannel peak, RMS & crest factor meter.
True dynamic range measurement with levels histograms.
Instant, average and maximum audio levels.
Modular user interface to fit into your workflow, with multiple screen sizes.
Total control over the metering characteristics, including attack/release shape.
Bob Katz's K-System scales support (K-12 / K-14 / K-20 and custom)
Mono, stereo, mid-side or surround analysis.
Record measurements (peak, RMS, crest factor, clip etc.) as automation curves.
Control in real time any MIDI-compatible plug-in or external MIDI device with the generated envelopes thanks to the plugin's MIDI CC output. See the Tutorials section for more examples.
Manage the shape of the output envelope: record reversed envelope, change amount of signal, and offset the generated envelope. This lets you use the plug-in for side chain ducking, compression and much more.
Easy 'stereoness' and phase cancelation measurement.
Blue Cat Audio Standards:
Available as: Mac-AAX, Mac-AU, Mac-RTAS, Mac-VST, Win-AAX, Win-DX, Win-RTAS, Win-VST, Win x64-AAX, Win x64-DX, Win x64-VST.
Native DSP code for optimal performance.
Full MIDI control and automation support with silent, zipper-free parameters update, advanced response control and MIDI Learn.
No CPU load on idle: when the plug-in is fed with silence, the processing smoothly shuts down, to optimize the CPU usage of your Digital Audio Workstation.
Skinnable and customizable user interface with transparency management.
Automation and MIDI output: record output parameters as automation curves or send MIDI CC messages to other plug-ins for powerful side chain effects.
Smooth Bypass: activate/deactivate the plug-in with absolutely no noise.
Undo/Redo.
Full featured integrated presets manager.
Copy/paste the plug-in's state between instances using the system clipboard.
Any sample rate supported.
Videos
Screenshots
You can find more skins for this product here.
User Comments & Reviews
This Peak Meter Pro is probably the most exciting plugin I have tried for a long, long time: this plugin is the supreme sidechaining utility, bar none. Unlike others [...], this one allows you to use the amplitude of the sound passing through it to automate anything that can be controlled with MIDI CCs.
[...]This plugin is the most configurable, easy to set up sidechaining/automation plugin of all I have seen. Compared to others, it is essentially several plugs built into one, with the bonus of a very handsome, easy GUI, as well as very well-written tutorials on its usage at their website.
It's extremely well-designed and clearly made by a professional outfit. -
To add your own comment about this product, please contact us.
System Requirements
Windows
An SSE2-enabled processor (Pentium 4 or newer).
Microsoft Windows XP, Vista, Windows 7, 8 or 10.
Any DirectX / VST / RTAS / AAX compatible host software (32 or 64 bit).
Mac OS X
An Intel processor.
Mac OS X Yosemite (10.10), Mavericks (10.9), Mountain Lion (10.8), Lion (10.7), Snow Leopard (10.6), or Leopard (10.5).
Any VST / Audio Unit (32/64-bit) / RTAS / AAX compatible application.
For more information about supported platforms, see our FAQ.
Demo Limitations
One single instance of the plug-in per session.
The plug-in is regularly bypassed for a few seconds.
V4.05 (2014/01/09)
New Features:
Copy/paste the plug-in's current state from the presets menu using the system clipboard.
Improvements:
Reduced the plug-in's memory usage.
Windows VST Installer now remembers where the plug-in was initially installed to simplify upgrades.
(Mac) plug-in version number is now available when using "Get Info" in the Finder.
(Mac) Improved display of Audio Unit parameters in most host applications.
Bug Fixes:
Fixed window frame not showing with Cubase 7.5 (32-bit) on Mac.
(Mac) About window does not show up first in the corner of the screen anymore.
(Win) Alt-Click on a control now resets the value to default in Pro Tools, as expected.
Fixed version number reported to host application for VST and Audio Unit versions.