"The most flexible all-in-one dynamics processor"
Description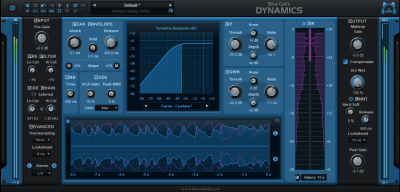 Blue Cat's Dynamics is a complete dynamics effect processor: it can be used as a compressor, limiter, gate, expander or even waveshaper for distortion. You can manage the dynamics response of the plug-in with a unique two-thresholds system. The plug-in includes an input filter as well as a side chain filter, in order to control the frequencies affected by the compression. Its continuous VCA/Opto and Peak/RMS controls let you smoothly and precisely choose the behavior of the envelope detection like you have never been able to.
The plugin also provides advanced stereo features, with mid/side processing capability, multiple stereo linking options and the ability to choose on which channels to apply the effect.
An additional brick wall limiter/clipper protects the output for complete control over the dynamics response. You can use this software as a real time side chain compressor as well, thanks to its unique MIDI CC & automation output. Side chaining has never been so easy, as you can see in our tutorial, and it even lets you trigger external hardware devices. It's also possible to trigger other effects according to the dynamics response, as shown in our dynamic EQ tutorial: you can build your own dynamics processing effect with your favorite plugins.
The real time display of the detected envelope under the compression curve lets you know what's exactly going on in the dynamics processor. You can also visualize what's been applied to your audio signal with the real time in/out envelopes display: there is no easier way to compare the input and output signals in real time. You can also record all this information as automation curves, so that it's possible to monitor the modifications applied to the signal on top of the audio representation in your favorite host. See our monitoring tutorial for details.
All these features can be controlled from a user-friendly and skinnable user interface (customize it to your own needs!), or from any hardware/software MIDI controller. MIDI learn has not been forgotten so that MIDI setup is fast and reliable.
The package includes a mono and a stereo version for optimal CPU usage.
If you are looking for a multiband dynamics processor, check out the Blue Cat's MB-5 Dynamix plugin.









Price:
119 EUR or $159 (excl. VAT)

Add to Cart
Features
Main Features
Full featured dynamics processor: compressor, gate, limiter, expander, waveshaper.
Total control over the processor: continuous peak/RMS and Opto/VCA modes selection.
Total control over the signal: dry/wet control for parallel compression, input and side chain filters.
Stereo or mid-side processing with multiple channels linking options.
Post brickwall limiter or waveshaper.
Optimal monitoring: dynamics response and input/output envelopes real time display with zooming capability, the main compression information can be recorded as automation curves.
Best quality: up to 4x oversampling for the best sounding quality.
Side chaining made easy: a unique way to perform side chain compression, ducking, gating and much more.
Multiple skins included for optimal user experience.
Plugin window transparency management.
No latency.
Blue Cat Audio Standards:
Available as: Mac-AAX, Mac-AU, Mac-RTAS, Mac-VST, Win-AAX, Win-DX, Win-RTAS, Win-VST, Win x64-AAX, Win x64-DX, Win x64-VST.
Native DSP code for optimal performance.
Full MIDI control and automation support with silent, zipper-free parameters update, advanced response control and MIDI Learn.
No CPU load on idle: when the plug-in is fed with silence, the processing smoothly shuts down, to optimize the CPU usage of your Digital Audio Workstation.
Skinnable and customizable user interface with transparency management.
Automation and MIDI output: record output parameters as automation curves or send MIDI CC messages to other plug-ins for powerful side chain effects.
Smooth Bypass: activate/deactivate the plug-in with absolutely no noise.
Undo/Redo.
Import/Export presets in a host independent format.
Any sample rate supported.
Videos
Screenshots
You can find more skins for this product here.
User Comments & Reviews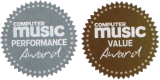 "[Blue Cat's] Dynamics 3 is the latest incarnation of Blue Cat Audio's multitalented dynamics plugin [...]. On the face of it it's all pretty standard stuff, but scratch the surface and there are plenty of subtle features that makes Dynamics 3 stand out.[...] All told, Blue Cat's Dynamics 3 is an excellent plug-in for a reasonable price."
-
8/10 rating and performance and value awards granted by Computer Music Magazine (CM) - August 2009
-
To add your own comment about this product, please contact us.
System Requirements
Windows
An SSE2-enabled processor (Pentium 4 or later).
Microsoft Windows XP, Vista, Windows 7 or 8.
Any DirectX / VST / RTAS / AAX compatible host software (32 or 64 bit).
Mac OS X
An Intel or PowerPC processor.
Mac OS X Yosemite (10.10), Mavericks (10.9), Mountain Lion (10.8), Lion (10.7), Snow Leopard (10.6), or Leopard (10.5).
Any VST / Audio Unit (32/64-bit) / RTAS / AAX compatible application.
For more information about supported platforms, see our FAQ.
Demo Limitations
One single instance of the plug-in per session.
The effect is bypassed for 4 seconds every 45 seconds.
V3.12 (2014/03/20)
Fixed 64-bit VST MIDI Events not sent for the first output parameter in the list.
Windows VST installer now detects the VST plug-ins path and remembers previous install location for updates.
Fixed Audio Unit validation issue on OSX Mavericks/Logic Pro X.
Fixed VST plug-in window frame not showing in Cubase 7.5 (32-bit) on Mac.
Fixed VST version that could not be loaded in Audio HiJack Pro (Mac).