"The most flexible all-in-one dynamics processor"
Description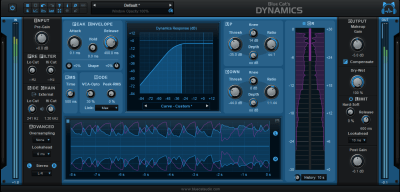 Blue Cat's Dynamics is a full featured dynamics processor: it can be used as a compressor, limiter, gate, expander, waveshaper or all at once! The dynamics response of the plug-in can be tweaked with a unique two-thresholds system, and provides detailed visual feedback about its behavior.
The plug-in includes several filters to control the frequencies affected by the compression. Its continuous VCA/Opto and Peak/RMS controls let you smoothly and precisely choose the behavior of the envelope detection like you have never been able to.
The plug-in also provides advanced stereo features, with mid/side processing capability, multiple stereo linking options and the ability to choose the channels affected by the processor.
An additional brick wall limiter and clipper protects the output for complete control over the dynamics response.
Three different modes are available for external side chaining, using either the external side chain input, MIDI control or automation lanes.
The configurable visual feedback shows every detail of what is going on inside the plug-in. You can also record this information as automation curves, to monitor the modifications applied to the signal on top of the audio representation of your favorite host application.
All these features can be controlled from a fully configurable and "skinnable" user interface, or from any external controller.
The package includes a mono and a stereo version for optimal CPU usage.
Credits: this plug-in includes factory presets created by Sink [Yann D] (www.sinkmusic.com).
If you are looking for a multiband dynamics processor, check out the Blue Cat's MB-5 Dynamix plug-in, or Blue Cat's MB-7 Mixer that can host this plug-in on multiple bands.









Price:
129 EUR or $149 (excl. VAT)

Add to Cart
Features
Main Features
Full featured dynamics processor: compressor, gate, limiter, expander, waveshaper with a unique two thresholds system.
Total control over the processor: continuous peak/RMS and Opto/VCA modes selection, peak envelope shape control, depth control to limit the gain range.
Total control over the signal: dry/wet control for parallel compression, input and side chain filters.
Stereo or mid-side processing with multiple channels linking options.
Post brickwall limiter or clipper.
Optimal monitoring: dynamics response, envelopes and gain reduction real time display with zooming capability. The main compression information can be recorded as automation curves.
Best quality: up to 4x oversampling for the best sounding quality.
Multiple side chaining modes: a unique way to perform side chain compression, ducking, gating and much more.
Fully configurable user interface for optimal experience.
No latency.
Blue Cat Audio Standards:
Available as: Mac-AAX, Mac-AU, Mac-RTAS, Mac-VST, Win-AAX, Win-DX, Win-RTAS, Win-VST, Win x64-AAX, Win x64-DX, Win x64-VST.
Native DSP code for optimal performance.
Full MIDI control and automation support with silent, zipper-free parameters update, advanced response control and MIDI Learn.
No CPU load on idle: when the plug-in is fed with silence, the processing smoothly shuts down, to optimize the CPU usage of your Digital Audio Workstation.
Skinnable and customizable user interface with transparency management.
Automation and MIDI output: record output parameters as automation curves or send MIDI CC messages to other plug-ins for powerful side chain effects.
Smooth Bypass: activate/deactivate the plug-in with absolutely no noise.
Undo/Redo.
Full featured integrated presets manager.
Copy/paste the plug-in's state between instances using the system clipboard.
Any sample rate supported.
Videos
Screenshots
You can find more skins for this product here.
User Comments & Reviews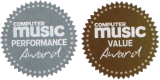 "[Blue Cat's] Dynamics 3 is the latest incarnation of Blue Cat Audio's multitalented dynamics plugin [...]. On the face of it it's all pretty standard stuff, but scratch the surface and there are plenty of subtle features that makes Dynamics 3 stand out.[...] All told, Blue Cat's Dynamics 3 is an excellent plug-in for a reasonable price."
-
8/10 rating and performance and value awards granted by Computer Music Magazine (CM) - August 2009
-
To add your own comment about this product, please contact us.
System Requirements
Windows
An SSE2-enabled processor (Pentium 4 or newer).
Microsoft Windows XP, Vista, Windows 7, 8 or 10.
Any DirectX / VST / RTAS / AAX compatible host software (32 or 64 bit).
Mac OS X
An Intel processor.
Mac OS X Yosemite (10.10), Mavericks (10.9), Mountain Lion (10.8), Lion (10.7), Snow Leopard (10.6), or Leopard (10.5).
Any VST / Audio Unit (32/64-bit) / RTAS / AAX compatible application.
For more information about supported platforms, see our FAQ.
Demo Limitations
One single instance of the plug-in per session.
The effect is bypassed for 4 seconds every 45 seconds.
V4.0 (2015/06/18)
New Features:
Fully redesigned algorithms.
External side chain input.
Control the attack and release shape of the peak envelope.
Improved monitoring, with gain reduction and increase histograms and new envelopes view.
Brand new fully customizable user interface:

New look and feel.
Show/hide what you need.
Meters and curves can now be frozen.
Zoomable GR meters and curves.
Improved readability.
Animated transitions.

New integrated presets manager:

Load/save presets from the plug-in's user interface.
Organize presets with folders.
Customize the default preset.
Exchange presets easily.
Load Presets using MIDI Bank Select and Program Change.

Copy/paste the plug-in's current state from the presets menu using the system clipboard.
Automation range and response curve can now be customized for each parameter (in and out).
Automation and MIDI settings (channel, MIDI learn etc.) are now accessible from the main user interface.
Audio Suite support for the AAX version for offline dynamics processing in Pro Tools.
Dynamics response curve is now displayed on the AVID S6 control surface when used with Pro Tools.
Improvements:
Limiter and output meter now work in L/R mode when the dynamics section is operating in Mid/Side mode.
New presets to get started faster.
Plug-in name has been shortened for a clearer display in mixer view for most host applications.
Plug-in now shows in the "Dynamics" section of most DAWs.
The windows installer now automatically detects the most appropriate VST install path and remembers where the plug-in was initially installed to simplify upgrades.
License is now shared between plug-ins types (register only once for all formats).
Improved value display in fine edit window.
Improved parameters display and response curves on control surfaces.
Optimizations and Performance Improvements:
Improved parameters precision (now stored as 64-bit).
More compact presets format (uses less space and loads faster).
Smaller binaries on Mac (dropped PowerPC support).
Bug Fixes:
(RTAS) Fixed parameters control with EUCON control surfaces in Pro Tools.
Fixed user interface issues in Final Cut Pro X.
Fixed keyboard stealing issue in Digital Performer 7 on Mac.
Fixed version number reported to host application for VST and Audio Unit versions.
Note: this new version can be installed side by side with the previous version for backward compatibility reasons. Installing this new version won't break your previous projects.