"Detailed stereo image analysis with 3D visualization."
Description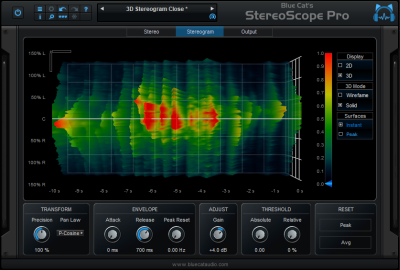 Blue Cat's StereoScope Pro is a real time stereo field analyzer with multiple views and MIDI/automation output capabilities. It is a powerful help to analyze how the audio signal is spread in the stereo field, and you can easily detect potential phase and mono compatibilities issues.
The stereo analysis can be controlled in details, and the precise measurements capabilities combined with the zoomable displays let you monitor what is exactly happening.
Choose your preferred view for your needs: real time stereo field display, evolution of the stereo image over time (2D or 3D) or output parameters that explicitly describe the average position and extent of the audio signal in the stereo field. The 3D waterfall view lets you see in details from your preferred viewpoint the evolution of the stereo image over time.
The four memory slots let you store any curve in memory: it helps you make comparisons between several tracks or effects setup very easily. You can compare your mix with other commercial hits!
Like our other professional analysis tools, the output parameters of this plug-in can be used to control other effects in real time: the generated automation envelopes or MIDI CC messages include the minimum and maximum positions in the stereo field and the perceived position based on the audio energy spread in the stereo image. Check the DP Meter Pro Tutorials to see how to use this capability within your favorite host.
Thanks to Blue Cat's skinning language support and the included window opacity management feature, you can adapt the plug-in user interface to your personal needs and enhance your workflow: work faster and more efficiently.
For multiple tracks stereo analysis, you want to give a try to Blue Cat's StereoScope Multi plugin.









Price:
69 EUR or $89 (excl. VAT)

Add to Cart
Features
Main Features:
Real time stereo image analyzer.
Three detailed views: stereo image, "stereogram" (evolution of the image over time) and output parameters.
Animated zoom for all views.
Precise measurement capabilities.
3D waterfall view with full 3D control.
solid or wireframe 3D surface display.
Integrated correlation meter.
Instant, peak and average stereo image curves display.
Easy phase cancelation and mono compatibility issues detection.
Save the curves for easy A/B comparison.
Opacity control for the user interface.
Custom absolute and relative threshold control.
Blue Cat Audio Standards:
Available as: Mac-AAX, Mac-AU, Mac-RTAS, Mac-VST, Win-DX, Win-RTAS, Win-VST, Win x64-DX, Win x64-VST.
Native DSP code for optimal performance.
Full MIDI control and automation support with silent, zipper-free parameters update, advanced response control and MIDI Learn.
No CPU load on idle: when the plug-in is fed with silence, the processing smoothly shuts down, to optimize the CPU usage of your Digital Audio Workstation.
Skinnable and customizable user interface with transparency management.
Automation and MIDI output: record output parameters as automation curves or send MIDI CC messages to other plug-ins for powerful side chain effects.
Smooth Bypass: activate/deactivate the plug-in with absolutely no noise.
Undo/Redo.
Import/Export presets in a host independent format.
Any sample rate supported.
Screenshots
You can find more skins for this product here.
User Comments & Reviews
To add your own comment about this product, please contact us.
System Requirements
An OpenGL-compatible graphics card for the 3D View.
Windows
An SSE2-enabled processor (Pentium 4 or later).
Microsoft Windows XP, Vista, Windows 7 or 8.
Any DirectX / VST / RTAS / AAX compatible host software (32 or 64 bit).
Mac OS X
An Intel or PowerPC processor.
Mac OS X Moutain Lion (10.8), Lion (10.7), Snow Leopard (10.6), or Leopard (10.5).
Any VST / Audio Unit (32/64-bit) / RTAS / AAX compatible application.
For more information about supported platforms, see our FAQ.
Demo Limitations
One single instance of the plug-in per session.
The plug-in is frozen for 4 seconds every 40 seconds.
V1.9 (2011/07/11)
Output data rate (MIDI CC or automation) can now be customized, from 20 to 500 Hz.
Increased the default output data rate (from 20 to 50 Hz) for smoother side chaining and more precise display.
Several pan laws can now be selected to match your preferences.
Center position is now displayed with numbers in addition to the graphical meter.
Windows: improved settings dialog loading time.
Mac: user interface performance improvement (up to 30% lighter on cpu).