"What you cannot hear, Blue Cat's FreqAnalyst shows it to you, for free!"
Description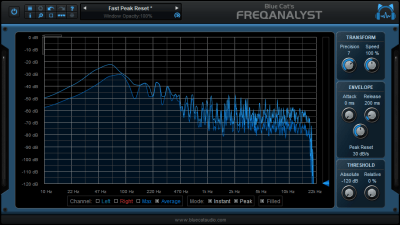 Blue Cat's FreqAnalyst is a free spectrum analyzer plug-in that lets you monitor the spectral content of your audio signal in real time.
This plug-in has been designed to provide extreme smoothness and high resolution for both time and frequency: unlike most spectrum analyzers, Blue Cat's FreqAnalyst is able to display continuous variations even with a very high frequency resolution, thanks to its unique smooth interpolation algorithms.
Most aspects of the audio to frequency display conversion can be managed, which lets you total control over the monitoring. A special thresholding system has been developed to help you see the important parts of the spectrum easily. In case you need extra precision in a particular frequency range, you can zoom the display and check the part of the graph you are interested in.
This plug-in supports Blue Cat's skinning language, so that you can customize the user interface to your personal needs.
For more advanced capabilities, check Blue Cat's FreqAnalyst Pro plug-in, an extended version that offers many more features, such as saving/restoring curves, precise measurement tools, 3D spectrogram view, MIDI output. For multiple tracks analysis, you can use Blue Cat's FreqAnalyst Multi plug-in.
Features
Main Features:
Mono and stereo real time spectrum analyzer.
Total control over the audio to frequencies tranformation.
Smart interpolation algorithm for extreme display smoothness.
Zoomable display with multiple sizes.
Custom absolute and relative thresholds.
Blue Cat Audio Standards:
Available as: Mac-AAX, Mac-AU, Mac-RTAS, Mac-VST, Win-DX, Win-RTAS, Win-VST, Win x64-DX, Win x64-VST.
Native DSP code for optimal performance.
Full MIDI control and automation support with silent, zipper-free parameters update, advanced response control and MIDI Learn.
No CPU load on idle: when the plug-in is fed with silence, the processing smoothly shuts down, to optimize the CPU usage of your Digital Audio Workstation.
Skinnable and customizable user interface with transparency management.
Smooth Bypass: activate/deactivate the plug-in with absolutely no noise.
Undo/Redo.
Full featured integrated presets manager.
Any sample rate supported.
Screenshots
You can find more skins for this product here.
User Comments & Reviews
"Blue Cat's FreqAnalyst has been tested by the Softpedia labs and found to be completely clean of adware/spyware components. We are impressed with the quality of your product and encourage you to keep this high standards in the future."

"100% FREE award" granted by Softpedia -
To add your own comment about this product, please contact us.
System Requirements
Windows
An SSE2-enabled processor (Pentium 4 or later).
Microsoft Windows XP, Vista, Windows 7 or 8.
Any DirectX / VST / RTAS / AAX compatible host software (32 or 64 bit).
Mac OS X
An Intel processor.
Mac OS X Moutain Lion (10.8), Lion (10.7), Snow Leopard (10.6), or Leopard (10.5).
Any VST / Audio Unit (32/64-bit) / RTAS / AAX compatible application.
For more information about supported platforms, see our FAQ.
V2.01 (2012/04/23)
Bug Fixes:
AAX/RTAS on Mac: Fixed audio engine freeze or error issue with Pro Tools on some Mac configurations.
AAX on Mac: Fixed compare button that did not work well when using factory presets or any preset created on Windows.
Performance improvement when running under high CPU load for other platforms.