Follow Blue Cat Audio on Instagram
(2017/08/07)
Heads Up! You can now follow Blue Cat Audio on Instagram!
We will be using this new account to let you know what is going on behind the scenes: it's a new window to the dark side of the cat!
It is also the opportunity for you to connect with us with the #bluecataudio hashtag. See you soon on Instagram!
Destructor In The Studio Videos
(2017/07/05)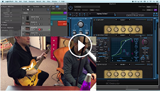 We have teamed up with Eli Krantzberg to offer you free tutorials about Blue Cat's Destructor in the studio: in these videos, Eli shows you how he uses Destructor to both record and mix guitar parts for a TV underscore cue he is working on.
Guitarist connected straight into the box, the series relates the chase for the perfect guitar tone, from clean rhythm settings to screaming leads. As you will see, it is as simple as picking up a few presets and tweaking them to your taste.
Enjoy, it's free!
Blue Cat's PatchWork V2 and MB-7 Mixer V3 Released
(2017/02/23)
Blue Cat's PatchWork 2.0 and MB-7 Mixer 3.0, announced last month at NAMM, are now available!
With brand new user interface designs, dozens of new features, improved third party plug-ins support and audio routing, these new versions aim at redefining the user experience and streamlining the workflow.
Both plug-ins are now available for purchase with a special introduction price until March 15th (15% and 10% off). For existing customers, upgrade paths are available. Free update and upgrade offers have been sent by email.
Blue Cat Audio @ NAMM 2017
(2017/01/11)
We wish you all a happy new year!
What's better than a good trade show to start 2017? If you are in the L.A. area next week, please stop by our booth (#6242) at the NAMM show in Hall A to discover our new software before anyone else!
Yes, we have many surprises to show you... But if you cannot make it, don't worry, we'll post news on social medias during the show. Keep connected!
Looking for older news? Please consult the News Archive page.