Blue Cat's PatchWork V2 and MB-7 Mixer V3 Released
(2017/02/23)
Blue Cat's PatchWork 2.0 and MB-7 Mixer 3.0, announced last month at NAMM, are now available!
With brand new user interface designs, dozens of new features, improved third party plug-ins support and audio routing, these new versions aim at redefining the user experience and streamlining the workflow.
Both plug-ins are now available for purchase with a special introduction price until March 15th (15% and 10% off). For existing customers, upgrade paths are available. Free update and upgrade offers have been sent by email.
Blue Cat Audio @ NAMM 2017
(2017/01/11)
We wish you all a happy new year!
What's better than a good trade show to start 2017? If you are in the L.A. area next week, please stop by our booth (#6242) at the NAMM show in Hall A to discover our new software before anyone else!
Yes, we have many surprises to show you... But if you cannot make it, don't worry, we'll post news on social medias during the show. Keep connected!
Destructor, PatchWork and MB-7 Mixer Updated
(2016/12/29)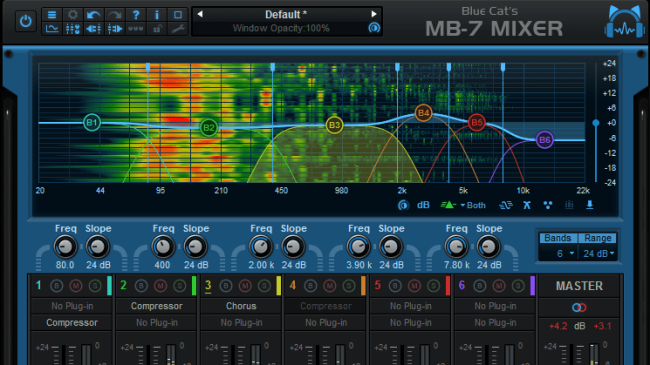 Merry Xmas! We found the time to update 3 of our best selling plug-ins before the new year!
These new versions mainly bring a couple of bug fixes and minor improvements that will make your audio life easier. Check out Blue Cat's Destructor 1.11, Blue Cat's MB-7 Mixer 2.54 and PatchWork 1.74!
If you already own these plug-ins, you can get the latest version from the same location as the original download (link received by email upon purchase or registration). If you don't, don't miss our year-end promotions, with up to 25% off!
Enjoy!
Destructor 1.1 Released - Year-End Deals Launched
(2016/12/15)
It's the end of the year, it's time to celebrate the arrival of 2017:
Blue Cat's Destructor 1.1 is now available, with several user interface and worklow enhancements, including more than 200 new visual styles. Check it out!
We have also launched our year-end promotions, with up to 25% off! They will last until January 5th only, don't miss them!
Just purchased a product from us? Don't get mad: you will get an additional 10% discount on these promotions, like all existing customers prior to this announcement: check your email!
Enjoy!
Blue Cat's Destructor Updated
(2016/11/22)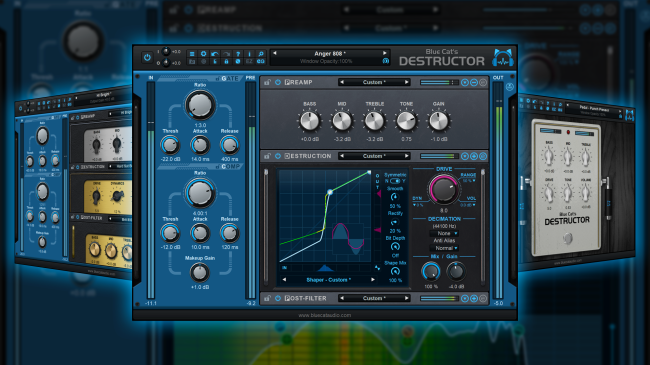 Blue Cat's Destructor, our new distortion and amp sim modeling plug-in has just been updated!
V1.01 mainly brings improvements to the demo version (removing some limitations) and fixes a few issues found in the initial release. The update is free for existing customers and can be found at the same location as the initial full version (link received by email upon purchase).
Full change list is available on the Destructor plug-in page. Enjoy!
Destructor Reviews & Demos
(2016/10/14)
Launched earlier this week, Blue Cat's Destructor has already been reviewed a couple of times: Pro Tools Expert, Studio One Expert, and Audiofanzine.fr all truely enjoyed the plug-in!
These reviews, as well as video demos of our distortion plug-in are available on the blog!
Also on the blog this week, Q&A sessions about the inception of the plug-in, and how it can be used for electronic music. Enjoy!
Looking for older news? Please consult the News Archive page.