What Was Announced At NAMM 2018
(2018/01/29)
NAMM 2018 is now over... Check out what we have announced and demoed at NAMM this year! A new product for your guitar and bass tones, major products updates and free previews already available for existing customers... There's a lot to be released later this year!
Also we have extended the 20% discount offer on Blue Cat's Destructor and Late Replies until we are back from NAMM. That's two more days to take advantage of this very special offer, don't miss it!
Please Welcome Blue Cat's Axiom
(2018/01/23)
Blue Cat's Axiom is our new multi effects processor and amp simulation software for guitar and bass. We are very excited to unveil this new software at the NAMM Show this week, on booth #16300.
You can already read more details about Blue Cat's Axiom on our blog. At this occasion we offer 20% discount on Blue Cat's Destructor and Late Replies until the end of the show.
Keep connected!
Year-End Deals Launched
(2017/12/15)
It's the end of the year, it's time to celebrate the arrival of 2018: We have launched our year-end promotions, with up to 40% off! They will last until January 10th only, don't miss them!
Just purchased a product from us? Don't get mad: you will get an additional 10% discount on these promotions, like all existing customers prior to this announcement: check your email!
Enjoy!
Blue Cat's Destructor 1.2 Released
(2017/11/21)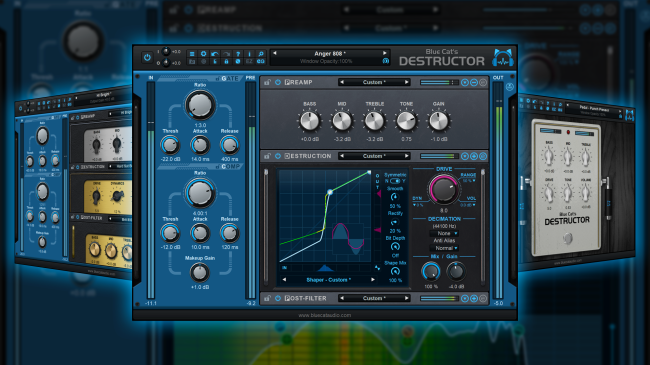 Ladies and gentlemen, please welcome Blue Cat's Destructor 1.2!
This free update mainly adds GUI zoom (up to 2x), retina displays support, and a new installer for Mac. Presets management has also been improved, and a few minor issues have been fixed (full change log on the Destructor plug-in page).
Also, new legendary guitar tones presets crafted by Hans Van Even are now available for download for free. You can check the presets in action in our legendary guitar tone videos.
As usual, the update is free for existing customers, and new customers can purchase the plug-in with 10% off until December 5th. Enjoy!
Blue Cat's PatchWork 2.1 Is Here
(2017/11/09)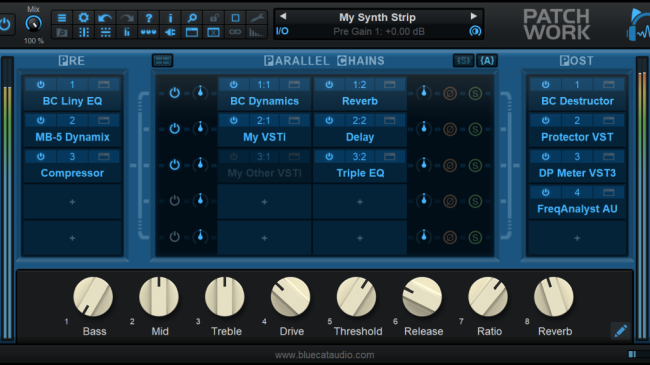 Blue Cat's PatchWork 2.1 is here! Our virtual patchbay for plug-ins has now become a powerful multi effects processor on its own: it now includes 25 built-in audio effects (borrowed from Late Replies), 75 new effect presets and a fully zoomable user interface (GUI).
An overview of the new features is available on our blog. As usual the update is free for existing PatchWork V2 owners and can be downloaded from the same location as the original full version (link received by email upon purchase).
Enjoy!
Blue Cat's Plug'n Script V3 Released
(2017/10/17)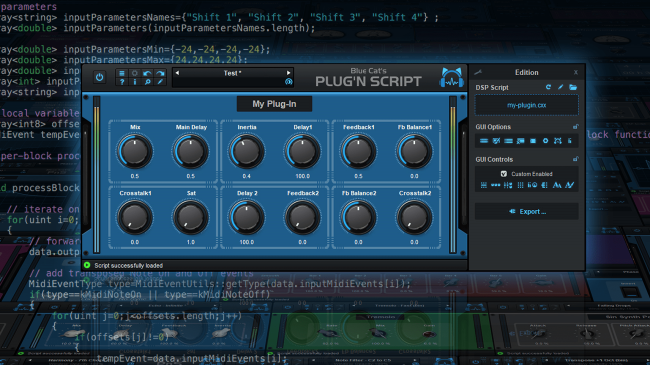 We are happy to finally unveil today Blue Cat's Plug'n Script 3.0, a new version of our audio & MIDI scripting plug-in. The user interface has been completely overhauled, with a new workflow and the ability to export your creations as independent VST plug-ins.
The plug-in is available for purchase with 20% off until November 5th, while existing customers get an extra 10% discount (check your email!) during the same period. Upgrade is free for customers who purchased the plug-in since last update, and previous customers will receive an upgrade offer (for a small fee) by email.
More details about the plug-in and demo downloads can be found on the Plug'n Script scripting plug-in page. New features are also covered on our blog. Check it out!
New Colors For Your Guitar Tones
(2017/09/12)
With the recent addition of Blue Cat's Late Replies to our guitar plug-ins collection, you now have access to an incredible number of guitar tones and effects, with just a few of our plug-ins.
Wondering how? Check out these new guitar demo videos demonstrating our new creative delay plug-in combined with Blue Cat's Destructor tone builder inside PatchWork!
Enjoy!
Looking for older news? Please consult the News Archive page.