"Dynamics Under Control"
Description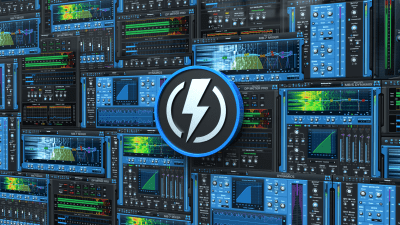 Want to bring energy and dynamics to your tracks? Looking for a complete wideband, multi-band and side chain dynamics processing solution? It's here!
This bundle of plug-ins includes our best tools to manage the dynamics of your audio tracks: Blue Cat's DP Meter Pro monitors the levels and offers unique ducking capabilities thanks to its side chain features. Blue Cat's Dynamics includes all you need for broadband dynamics processing, while Blue Cat's MB-5 Dynamix takes care of multiband effects. Blue Cat's MB-7 Mixer is the perfect companion for these dynamics processors: it will let you create powerful multiband side chain effects. Finally, Blue Cat's Protector's simple yet efficient limiting capabilities completes the bundle.
All these plug-ins offer unique side chaining capabilities using MIDI or automation control. They can thus be used for a wide range of dynamics-based side chain effects. Check our tutorials for more information.









Price:
349 EUR or $459 (excl. VAT)

Add to Cart
Platforms: Mac-AAX / Mac-AU / Mac-RTAS / Mac-VST / Win-AAX / Win-DX / Win-RTAS / Win-VST / Win x64-AAX / Win x64-DX / Win x64-VST
(You save 216 EUR or $286 compared to individual prices). For more information about the 5 products included in this bundle, see the list below:

>subscribe to our newsletter
Blue Cat's DP Meter Pro
| | |
| --- | --- |
| | "A unique audio meter and side chaining tool" - Blue Cat's DP Meter Pro (DPMP) is a unique audio analysis tool: it combines very flexible and customizable audio meters with advanced side chaining control capabilities thanks to its MIDI and automation outputs. The metering capabilities of the DPMP plug-in let you control and monitor audio signals exactly the way you want:...[Read More...] |
Blue Cat's Dynamics
| | |
| --- | --- |
| | "The most flexible all-in-one dynamics processor" - Blue Cat's Dynamics is a complete dynamics effect processor: it can be used as a compressor, limiter, gate, expander or even waveshaper for distortion. You can manage the dynamics response of the plug-in with a unique two-thresholds system. The plug-in includes an input filter as well as a side chain filter, in order to control ...[Read More...] |
Blue Cat's MB-5 Dynamix
| | |
| --- | --- |
| | "Multiband dynamics processing revisited." - Blue Cat's MB-5 Dynamix is an extremely powerful all-in-one multiband dynamics processor: it can be used as a multiband compressor, limiter, gate, expander, waveshaper or all combined at once, on any part of the spectrum. The unique dynamics processing section of the Blue Cat's Dynamics plug-in has been streamlined and integrate...[Read More...] |
Blue Cat's MB-7 Mixer
| | |
| --- | --- |
| | "The multiband mixing console and VST/AU host." - Blue Cat's MB-7 Mixer is a unique plug-in that splits the signal into several frequency bands and lets you mix and process them as if they were separate tracks. Each band proposes controls that can be found on a mixing console, and more: bypass, mute or solo each band separately to isolate frequencies you want to work on, adj...[Read More...] |
Blue Cat's Protector
| | |
| --- | --- |
| | "A brick wall for your master buss." - Blue Cat's Protector is a 0 dB stereo brickwall limiter with adjustable dynamics response. It will typically find its place on the master bus of your DAW to protect your audio output from overshoot, limit the general volume and improve the perceived loudness, thanks to a very transparent frequency response. Despite its very s...[Read More...] |
Videos
No Videos available. Please check our Youtube channel for more videos about this software.
User Comments & Reviews
To add your own comment about this product, please contact us.