"The best of both worlds"
Description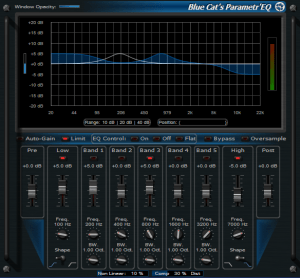 Blue Cat's Parametr'EQ is a 7 bands parametric equalizer combining the advantages of both the digital and analog worlds. Its special non-linear and oversampling features let you easily simulate the compression and distortion that may occur in an analog EQ or on the contrary obtain a very clean and transparent digital EQ.
The plug-in includes a low shelf/low cut filter, a high shelf/high cut filter and 5 boost/cut band filters. An optional brickwall limiter has been added to the output to protect your ears and monitors. Its wide range of gain (+/-40 dB per band) and bandwidth (one hundredth to five octaves) makes it suitable for any equalization task, especially with the extra zooming capability that lets you define your own range for the user interface. The included skins let you choose the layout that best suits your needs, and you can completely customize the user interface thanks to Blue Cat's Skinning language support.
The graph displays the computed frequency response of the plug-in, so that you can exactly know how your signal is processed. This is not an approximated or "ideal" response curve based on the controls of the user interface, but the exact computed frequency response of the filter, which makes this plug-in a true WYSIWYG (What You See Is What You Get) equalizer.
Thanks to the included Smooth Update technology, every single parameter of this equalizer can be automated in your favorite sequencer or controlled by MIDI in real time (MIDI learn included). You will get an absolutely zipper-free continuous time-varying equalization. Filters activation and bypass functions are now totally smooth and won't damage your ears or speakers.
Last but not least, this equalizer has absolutely no latency, which make it perfect for real time applications.
This version is a mono effect, which means that you will get the same effect on left and right sides of your audio signal. You may also want to check the Stereo Parametr'EQ plugin or Widening Parametr'EQ plugin for more advanced control on the stereo channels.









Price:
69 EUR or $89 (excl. VAT)

Add to Cart
Features
True WYSIWYG 7 bands parametric equalizer.
Filters designed after analog circuits.
Non linear modeling: add some warmth or analog distortion to each EQ stage.
Output brickwall limiter.
Output peak meter.
Oversampling for optimal sound quality, whatever your sampling rate.
+-40 dB range for each band with customizable effective range.
Automatic gain compensation.
No latency.
Real time display of the frequency response with precise measurement and zooming capabilities.
Window Opacity Control: make the plugin window transparent.
Blue Cat Audio Standards:
Available as: Mac-AAX, Mac-AU, Mac-RTAS, Mac-VST, Win-AAX, Win-DX, Win-RTAS, Win-VST, Win x64-AAX, Win x64-DX, Win x64-VST.
Native DSP code for optimal performance.
Full MIDI control and automation support with silent, zipper-free parameters update, advanced response control and MIDI Learn.
No CPU load on idle: when the plug-in is fed with silence, the processing smoothly shuts down, to optimize the CPU usage of your Digital Audio Workstation.
Skinnable and customizable user interface with transparency management.
Smooth Bypass: activate/deactivate the plug-in with absolutely no noise.
Undo/Redo.
Import/Export presets in a host independent format.
Any sample rate supported.
Videos
No Videos available. Please check our Youtube channel for more videos about this software.
Screenshots
You can find more skins for this product here.
User Comments & Reviews
To add your own comment about this product, please contact us.
System Requirements
Windows
An SSE2-enabled processor (Pentium 4 or newer).
Microsoft Windows XP, Vista, Windows 7, 8 or 10.
Any DirectX / VST / RTAS / AAX compatible host software (32 or 64 bit).
Mac OS X
An Intel or PowerPC processor.
Mac OS X Yosemite (10.10), Mavericks (10.9), Mountain Lion (10.8), Lion (10.7), Snow Leopard (10.6), or Leopard (10.5).
Any VST / Audio Unit (32/64-bit) / RTAS / AAX compatible application.
For more information about supported platforms, see our FAQ.
Demo Limitations
One single instance of the plug-in per session.
The effect is bypassed for 4 seconds every 40 seconds.
V3.52 (2014/03/20)
Fixed 64-bit VST MIDI Events not sent for the first output parameter in the list.
Windows VST installer now detects the VST plug-ins path and remembers previous install location for updates.
Fixed Audio Unit validation issue on OSX Mavericks/Logic Pro X.
Fixed VST plug-in window frame not showing in Cubase 7.5 (32-bit) on Mac.
Fixed VST version that could not be loaded in Audio HiJack Pro (Mac).