"Linear phase equalization, without the latency."
Description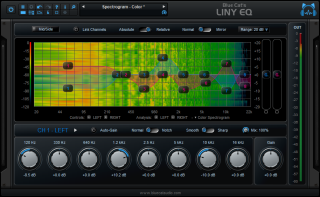 Blue Cat's Liny EQ is a 9 bands linear phase equalizer. It processes the signal without the usual phase distortion most classical digital EQs produce. Its customizable and wide range of gain (+/-40 dB per band) makes it suitable for any sound sculpting to subtle final mix equalization task. Additionaly, two shapes are available for the filters ("Notch" or "Symmetric").
The Smooth Update mechanism has been included in this plug-in so that you can automate the equalizer in your favorite sequencer or use the MIDI capabilities of your sequencer to control it in real time. You will get an absolutely zipper-free continuous time-varying equalization. This equalizer also has a very small latency (less than 3 milliseconds) thanks to its optimized very short kernel.
The built-in Blue Cat's skinning engine enables you to skin this plug-in: adapt the user interface to your needs and customize the look of your Blue Cat's plugin! 3 skins are included in the install package. This web sites offers you to download more skins or learn how to create new ones. It's all free!
This version is a mono effect, which means that you will get the same effect on left and right sides of your audio signal. You may also want to check the Stereo Liny EQ or Widening Liny EQ effects.









Price:
69 EUR or $89 (excl. VAT)

Add to Cart
Features
Linear phase equalizer.
customizable +-40 dB range.
Two different EQ shapes available.
Automatic gain compensation.
Very short latency: 2.9 ms (128 samples at 44,1 kHz).
Window opacity management: make the plugin window transparent.
Blue Cat Audio Standards:
Available as: Mac-AAX, Mac-AU, Mac-RTAS, Mac-VST, Win-DX, Win-RTAS, Win-VST, Win x64-DX, Win x64-VST.
Native DSP code for optimal performance.
Full MIDI control and automation support with silent, zipper-free parameters update, advanced response control and MIDI Learn.
No CPU load on idle: when the plug-in is fed with silence, the processing smoothly shuts down, to optimize the CPU usage of your Digital Audio Workstation.
Skinnable and customizable user interface with transparency management.
Smooth Bypass: activate/deactivate the plug-in with absolutely no noise.
Undo/Redo.
Import/Export presets in a host independent format.
Any sample rate supported.
Screenshots
You can find more skins for this product here.
User Comments & Reviews
To add your own comment about this product, please contact us.
System Requirements
Windows
An SSE2-enabled processor (Pentium 4 or later).
Microsoft Windows XP, Vista, Windows 7 or 8.
Any DirectX / VST / RTAS / AAX compatible host software (32 or 64 bit).
Mac OS X
An Intel or PowerPC processor.
Mac OS X Moutain Lion (10.8), Lion (10.7), Snow Leopard (10.6), or Leopard (10.5).
Any VST / Audio Unit (32/64-bit) / RTAS / AAX compatible application.
For more information about supported platforms, see our FAQ.
Demo Limitations
One single instance of the plug-in per session.
The plug-in is regularly bypassed for a few seconds.