Description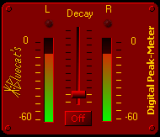 Blue Cat's Digital Peak Meter is a simple yet powerful signal analysis tool: it measures the peak value of the signal and lets you record it as an automation curve, as well as the fact that your signal clips ('clipping' occurs when the signal is higher than the maximum value accepted by your audio system).
Thanks to this unique feature you can use your audio signal to control other effects: just copy and paste the generated automation envelope and assign it to any parameter of any effect on any track of your project. Many customers have successfuly used it for automated video processing: your audio track is now able to control your video effects! And your guitar is now able to influence your drums track...
For more information about how to use this unique VST and DirectX plug-in, please read the documentation.
This product has been discontinued and will not be updated anymore. For real time MIDI control generation, total envelope generation control and many more features, please check the DP Meter Pro plugin instead.
User Comments & Reviews
To add your own comment about this product, please contact us.