New Skin For Blue Cat's Dynamics 4.0 by SatYatunes
(2015/06/23)
Looking for alternate skins for the new Blue Cat's Dynamics 4.0 plug-in? Check out this new light theme created by SatYatunes!
Enjoy, it's entirely free!
Blue Cat's Dynamics 4.0 Released
(2015/06/18)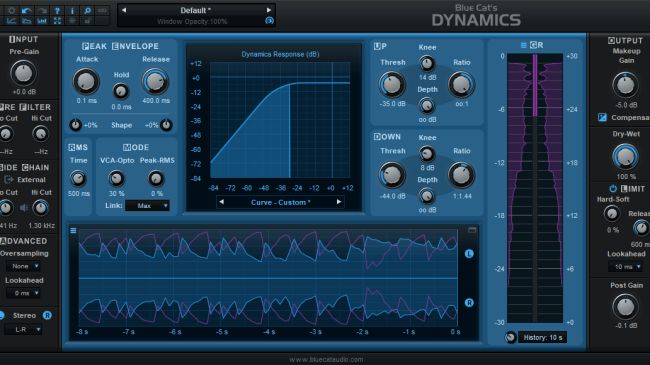 Blue Cat's Dynamics 4.0 is now available! Our ultra flexible all-in-one dynamics processor has been completely redesigned for this new version:
The algorithms have been entirely re-written, and the plug-in has now a brand new, fully customizable user interface, plus lots of new features and enhancements: external side chain support, premium visual feedback with large envelopes view and gain reduction histograms, new parameters to control the depth of the processor as well as the shape of the envelope, a new presets manager, new MIDI and automation mapping capabilities, and much more...
If the plug-in is not part of your collection yet, please check our overview video or download and try the demo: you can purchase Blue Cat's Dynamics 4.0 with 33% discount until July 15th!
The upgrade is free for users who have purchased the Dynamics plug-in in the past 3 months, and others will receive an offer by email to upgrade for a small fee.
Additional discounts apply to other existing Blue Cat Audio customers, so please check your emails!
Blue Cat's MB-7 Mixer 2.5 is Here
(2015/04/29)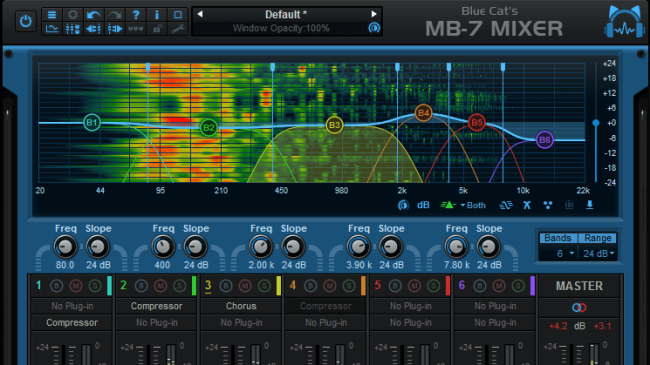 We are glad to announce the update of Blue Cat's MB-7 Mixer, which brings lots of new features to our multiband processing plug-in:
External side chain input for hosted sub plug-ins (which can now be applied to specific audio channels), "gui-less" plug-ins support, presets recall via MIDI, more precise and faster crossover filters, improved plug-ins compatibility... Check out the MB-7 Mixer plug-in page for the complete list of improvements.
As usual, this update is free for existing customers and can be downloaded from the same page as the original full version.
Enjoy!
Blue Cat's PatchWork 1.7 Available - Incredibly Flexible Audio Routing
(2015/03/26)
We are very excited to announce the release of Blue Cat's PatchWork 1.7, bringing super flexible audio routing for your plug-ins chains.

With up to 16 I/O channels for the standalone application, external sidechain input for the effect and auxiliary outputs for the instrument, Blue Cat's PatchWork external connection capabilities have been brought to a new level.

"With great power comes great responsibility", so this new release also adds new internal audio routing features: you can now select the I/O channels used for each plug-in - it is very easy to create aux sends, process individual channels separately or apply effects the sidechain signal, without having to manage cable connections!

Please check the PatchWork page for more details, or our blog post about these new features.

This update is of course free for existing customers and can be downloaded from the same page as the original full version. Enjoy!
Looking for previous news? Please consult the News Archive page.