Blue Cat's Destructor Updated
(2016/11/22)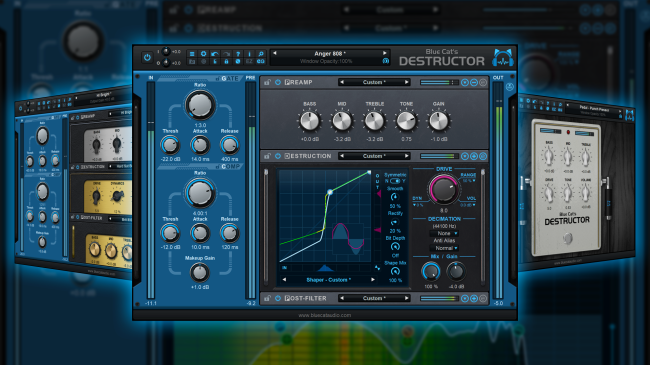 Blue Cat's Destructor, our new distortion and amp sim modeling plug-in has just been updated!
V1.01 mainly brings improvements to the demo version (removing some limitations) and fixes a few issues found in the initial release. The update is free for existing customers and can be found at the same location as the initial full version (link received by email upon purchase).
Full change list is available on the Destructor plug-in page. Enjoy!
Destructor Reviews & Demos
(2016/10/14)
Launched earlier this week, Blue Cat's Destructor has already been reviewed a couple of times: Pro Tools Expert, Studio One Expert, and Audiofanzine.fr all truely enjoyed the plug-in!
These reviews, as well as video demos of our distortion plug-in are available on the blog!
Also on the blog this week, Q&A sessions about the inception of the plug-in, and how it can be used for electronic music. Enjoy!
FREE Destructor Tutorial + 30 Days Groove3 Access
(2016/10/13)
We have partnered with Groove3 to offer you free 30 days access to 1200 hours of video tutorials, with an awesome in-depth training for Blue Cat's Destructor that covers all the features of the plug-ins in details.
The offer for the free pass expires on October 24th, so don't miss it!
Blue Cat's Destructor Now Available
(2016/10/11)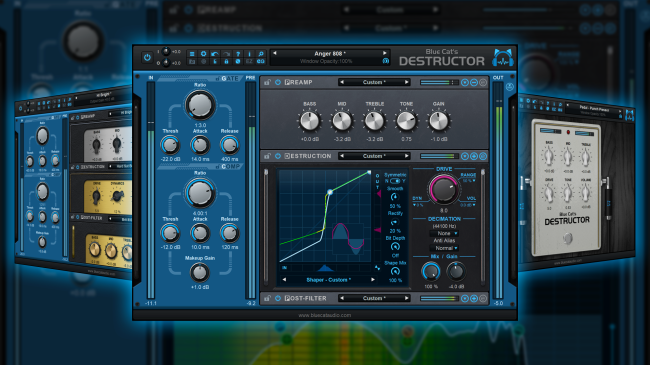 We are happy to finally unleash today Blue Cat's Destructor, our tone shaping channel strip and distortion modeling plug-in, capable of simulating many types of distortion, as well as more subtle and clean tones.
The plug-in is now available for purchase with 20% off until 11/11, while existing customers get an extra 10% discount (check your email!) during the same period. More details about the plug-in and demo downloads can be found on the Destructor plug-in page.
You may also want to check out this first guitar-centric review of the plug-in. But don't get it wrong: this plug-ins has a wide range of applications besides guitar and bass amp simulation.
Looking for older news? Please consult the News Archive page.