Blue Cat's PatchWork and MB-7 Mixer Update
(2014/10/20)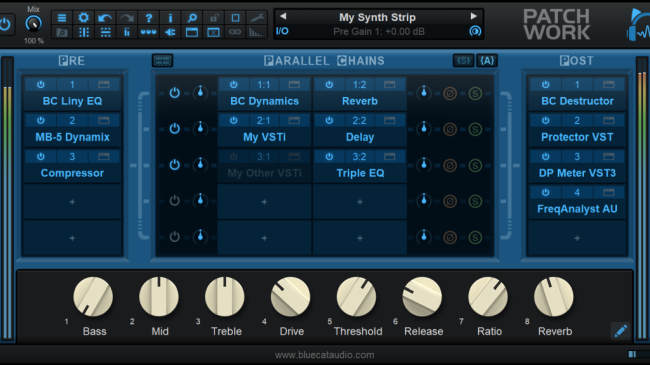 Blue Cat's PatchWork 1.5 and MB-7 Mixer 2.4 are now available! These new versions mainly bring stability, compatibility and interoperability enhancements: you can now load more plug-ins, on more machines!
The new PatchWork plug-in also supports MIDI FX Audio Units and can be loaded as a MIDI FX in Logic Pro X, as shown on our blog.
As usual, this update is free for existing customers and can be downloaded from the same page as the original full version. Enjoy!
Blue Cat's Plug'n Script 1.1 Available
(2014/10/01)
We are happy to announce that Blue Cat's Plug'n Script 1.1 is now available! This new version of our scripting plug-in mainly adds MIDI FX support for Logic Pro X, new controls in the user interface, new audio file playing and recording scripts, as well as new programming interfaces for scripters and several bug fixes!
You can read more details about these new features on the blue cat audio team blog, or on the Blue Cat's Plug'n Script page.
The special introduction offers are still available, until October 15th. Don't miss it!
Share Your Scripts on GitHub
(2014/09/30)
Got some time to play with our latest scripting plug-in lately? You will be happy to know that you can now share your custom scripts in our dedicated repository on GitHub.
We have included there all factory scripts for reference, and your own creations are now welcome!
Musicalentropy has already shared a couple of great scripts: several modulation effects (check out the Leslie!), non linear processors and famous filter emulations. Now show us what you can do!
Blue Cat's Plug'n Script Released
(2014/09/18)
We are happy to unveil today Blue Cat's Plug'n Script, a very particular scripting plug-in that can be programmed to quickly build custom audio and MIDI effects or virtual instruments without quitting your favorite DAW software.
With this plug-in, you can write your own processors or instruments, with very little knowledge about programming: it brings an entire development environment into your favorite DAW. It also includes 46 scripts and 120 factory presets for non programmers to use it as a multi effects processor. Read more about it on the Blue Cat's Plug'n Script page!
A special introduction offer (25% off) is available until October 15th. Also, special offers are being sent to existing Blue Cat Audio customers: check your email!
Looking for previous news? Please consult the News Archive page.