Tutorial Description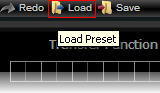 This tutorial shows you how to get and load free presets for your favorite Blue Cat Audio plugin.
This tutorial uses Blue Cat's Dynamics for the demonstration but is applicable to all our plugins, on both windows and Mac, provided that some presets have been published for them on this website.
Step By Step
01 - If presets are available for your plugin, a link appears in the 'Download' section on the right of the page:
01.1 - Click on this link to open the presets page for the plugin:
02 - On the plugin presets page, choose the presets you are interested in and click on the zip file link: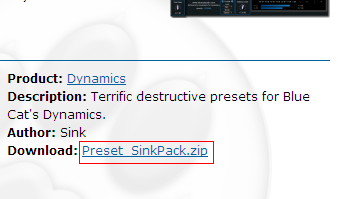 02.1 - Save the zip file to a location that you can find later:
Once the file has been saved, unzip it. It will extract one or several preset files depending on the package. Each file is a single preset for your plugin.
03 - Open the plugin and click on the 'load' icon in the toolbar:
04 - You can alternatively right click on the background and choose the 'Load Preset' menu: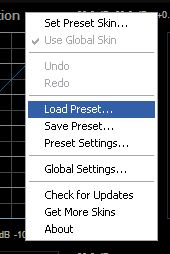 05 - Choose the preset file that you want to load (one of the previously extracted files):
06 - The preset has been loaded:
Your plugin state now reflects the new preset settings. If you want to load another preset, just repeat the last two steps above.
Conclusion
You have learnt how to download and open the free presets available on this website. You can now check if some presets are available for your favorite plugin.
Want to go a step futher? Check this Presets Export tutorial and learn how to export and share your own presets.
Any questions, comments? You want to submit your own tutorial to win a free license? Please post on our Forum!