Welcome to Blue Cat Audio Skins page. You will find here all you need to know to use or create skins for our products.
About Skins
Blue Cat Audio skins are a way to customize the user interface of your plugins: change the look of the plugin and change the way you interact with it. You can totally adapt it to your exact needs: don't adapt to the software, adapt the software to you!
You can download existing skins for free on this website or create your own and share them with the Community: show your talent and benefit from our worldwide customer base to promote your graphics and programming skills!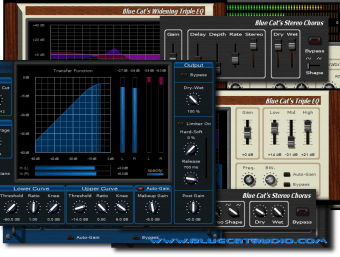 Basic skins created with Blue Cat's skinning language.
Skins On this Website
Please choose what you want to do:
Version 1.9.1
(2013/02/12)
New cell attributes exposed for full dynamic layout support.
New Action model type added.
Version 1.9
(2012/03/30)
Added commonly used patterns as language extensions.
Added default display/control response curves capability for parameters, curves and surfaces.
Version 1.8
(2011/07/11)
Added png images support.
Widgets that can be pushed (buttons, menus, sliders, knobs...) now expose a read only "pushed" attribute.
Added rounding capabilities to parameter to text conversion elements (PARAM_TEXT or PARAM_TO_STRING_LINK) thanks to the significant_digits attribute.
Version 1.7
(2010/11/15)
New build time features such as REPEAT, LOCAL_VARIABLE, formula definition and override support for variables.
Parameters now expose their min/max and default values.
Parameters values can now be rounded when displayed.
Version 1.6.2
(2010/08/29)
Version 1.6.1
(2009/09/20)
Version 1.6
(2009/08/10)
New 3D rendering capabilities.
Parameters, surfaces and curves can now be defined with math formulas.
Version 1.5
(2009/06/26)
New "flex" attribute for flexible cells support.
Dynamic layout support (layout may now change once the skin has been built).
Mac support (and Mac specifics now documented).
The documentation is now available online: skinning language online documentation.
Version 1.4.4
(2008/06/05)
Inner content support for templates.
Misc improvements.
Version 1.4.3
(2008/03/03)
New widgets (popup menu for parameters and XY curves graph).
Added multi link support for curves and strings.
Custom enumeration values can now be defined and dynamically changed.
Fonts should now use the size attribute instead of width and height (for future Mac compatibility support).
Version 1.4.1
(2008/02/07)
New parameter control widgets (joystick and text edit box).
Minor font behavior changes.
Version 1.4
(2007/12/10)
new STRING object type and STRING_LINK and associated widgets.
new zoom selection widget.
Version 1.3.4
(2007/08/30)
Minor Changes (see the documentation for details).
Version 1.3.3
(2007/08/13)
New Action button widget to trigger actions.
New INCLUDE_ONCE directive to simplify multiple file inclusion.
Version 1.3.2
(2007/05/21)
Parameter links improvements.
New UNDEFINE directive.
Version 1.3
(2007/03/20)
New widgets introducing parameter information and surface viewing widgets.
New model elements, including Curves and Surfaces.
VARIABLE and TEMPLATE language elements now allow the designer to do even more reusable code.
Version 1.2.5
(2007/01/18)
New "scratch pad" 3D control widget.
Parameter and curves widgets are now zoomable.
The opacity of the window containing the skin can be controlled within the skin.
Exposed parameters are now documented.
Version 1.2.4
(2006/11/06)
The 'shift' key now controls a fine tuning mode for knobs and sliders.
Version 1.2.3
(2006/10/16)
Curve graphs can now be anti-aliased and oversampled.
Version 1.2.2
(2006/09/10)
Normalized links between parameters allowed.
New element to create you own curves from parameters evolution over time.
Font size can now be expressed as a percentage of the current size or as an increment from the current size.
Version 1.2.1
(2006/08/25)
Custom fonts support.
A precision editing popup window now appears when double clicking on widgets.
Version 1.2
(2006/08/13)
Parameters defined in the skin can now be made persistent.
Version 1.1
(2006/06/06)
New layout capabilities.
Improved transparency support, added opacity attribute.
Linking capabilities between objects.
Graphes and curves support
New documentation format (chm).
Version 1.0
(2006/02/12)
First version of Blue Cat's Skinning Language.