"Single or multi-track stereo image analysis"
Description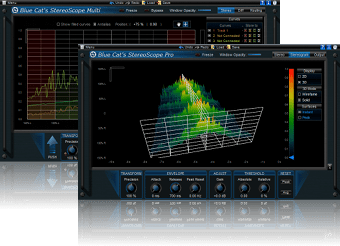 The best tools to check the stereo image of your audio projects: the Blue Cat's StereoScope Pro plugin offers you high precision and advanced audio to MIDI CC capabilities for single track analysis, and Blue Cat's StereoScope Multi has unique multiple tracks monitoring features.
For more information about the 2 products included in this bundle, see the list below:

>subscribe to our newsletter
Blue Cat's StereoScope Multi
| | |
| --- | --- |
| | "A unique multi-track stereo analysis tool for mixing and mastering." - Blue Cat's StereoScope Multi is a unique tool to compare the stereo image of several tracks in real time. It is the ideal solution for mixing: you can actually see which part of the stereo field every single instrument uses. It can also be used to analyze an effect chain and see how audio effects influence the stereo image of yo...[Read More...] |
Blue Cat's StereoScope Pro
| | |
| --- | --- |
| | "Detailed stereo image analysis with 3D visualization." - Blue Cat's StereoScope Pro is a real time stereo field analyzer with multiple views and MIDI/automation output capabilities. It is a powerful help to analyze how the audio signal is spread in the stereo field, and you can easily detect potential phase and mono compatibilities issues. The stereo analysis can be controlled in...[Read More...] |
Videos
No Videos available. Please check our Youtube channel for more videos about this software.
User Comments & Reviews
To add your own comment about this product, please contact us.