Blue Cat Audio develops audio software for musicians and audio professionals. We create real time audio processing plugins for the PC and Mac platforms, in VST, Audio Unit, RTAS, AAX and DirectX formats: you can find on this website professional audio effects and innovative audio analysis tools to transform your Digital Audio Workstation into a professional audio processing environment.
Blue Cat Audio also provides software development services and consulting for the pro audio industry: you need help? Ask the Experts!
Company Profile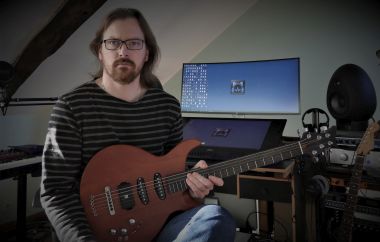 Blue Cat Audio is a privately held company based in Paris (France). It has been founded by Guillaume Jeulin, musician, software engineer and audio fanatic. We focus on providing flexible and powerful audio tools for musicians and audio professionals.
We believe that thanks to its flexibility, scalability and affordable cost, software is nowadays the preferred solution for any audio production. It opens up new possibilities that are changing the way people create and process sounds.
This is the reason why our offer is composed of audio analysis and audio processing plug-ins, bringing unique capabilities and uncomparable visual feedback that no hardware unit would be able to offer. Our engineering services for custom software development are the natural compliment to our wide range of software processors.
Our customers include recording studios, universities and recording schools, home studio owners, recording engineers as well as professional or amateur musicians from many countries all over the globe. Most of them take an active part in the development of our products, and our consulting activity keeps us in contact with some of the largest actors of the audio industry.
Why Choose Blue Cat Audio?
Unique technology
Because your music deserves the best technology, we spend most of our time innovating and do our best to find new solutions to your every day problems. Our unique analysis tools, the ability to customize the user interface thanks to our skinning language, the unique sounding capabilities of our plugins and their interconnectivity are the results of this constant effort.
Reliability
We have an industrial software engineering background and thus know what reliability means: software quality is extremely important to us. The products you can purchase on this website have been through a rigorous quality process. We actually use our own products every day in our personal or professional audio projects: you can trust their quality.
Pay for what you need
Blue Cat Audio gives you the choice: you do not need to purchase expensive bundles to get the products you need. All our products are also available separately.
Customer care
We care about our customers. It means we care about customer support ("Lightning fast support" said once one of our customers), and we also care about offering our existing customers the best prices: all our customers benefit from special upgrade offers and special prices for new products.
Constant updates
We release very often. When you purchase a Blue Cat Audio product, you can be assured that it will be updated as often as possible, so that it benefits from our latest technology.
To learn more, read a few testimonials and see what our customers have to say about us!
Contact Us
Any question? Looking for support or more information? Feel free to contact us.