We wish you all a happy new year! To celebrate 2015, we are happy to announce a new version of Blue Cat's PatchWork (free update for existing customers). So what's new with this new release?
New "Light Blue" Theme Skin
If you prefer lower contrast and light colors, you will love this new theme! We have created a completely redesigned theme for this alternate skin, now included in the plug-in.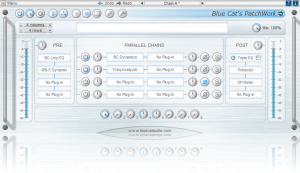 Fast and Easy Skins Selection Selecting alternate skins has been greatly improved in this version: no need to browse your computer and manually open the skin files anymore: skins are now listed in the plug-in menu: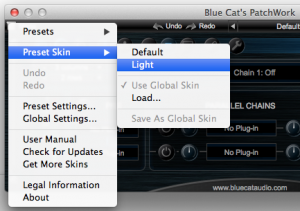 This is also true for user skins. For example, you install the excellent alternate skins by satYaTunes in the Skins directory (/Users/[USERNAME]/Documents/Blue Cat Audio/Blue Cat's PatchWorks/Skins/ on Mac, or C:\Users\[USERNAME]\Documents\Blue Cat Audio\Blue Cat's PatchWork\Skins on Windows Vista and newer):

These skins will also be available from the same menu:
One-Click Global Skin Management Once the skin has been selected, it will be used only for the current preset/session. It can be made the default with a single click, in the skins menu: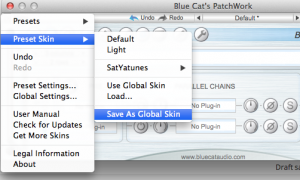 All your instances of the plug-in will now use this global skin, unless a preset skin has been loaded: the 'global' skin is the skin loaded by default if no preset skin has been defined.
192 kHz Support Added to Standalone Application
The standalone application now supports 192kHz sample rate (if your audio interface supports it):
This new release also fixes an issue with the MIDI Effect version of the Audio Unit plug-in that did not process MIDI events properly with the previous update. Enjoy!