With version 1.6, Blue Cat's PatchWork is now available both as a plug-in and a standalone application: it can be used on its own, without the need for a third party host application.
This is probably the fastest and lightest way to quickly load and use your audio plug-ins: no need to launch a full-featured and heavy sequencer application to load and control multiple virtual instruments, or to play your guitar thru your favorite audio effects.
The application supports real time low latency audio processing (up to 8 channels) and listens to all available MIDI ports. You can load up to 64 VST or Audio Unit plug-ins (effects or virtual instruments), in series or parallel.
It is also possible to mix the audio inputs with virtual instruments, so that you can work both inside and outside the box at the same time. And you can choose the tempo and time signature to synchronize instruments and effects loaded into the application.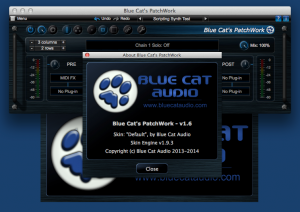 Enjoy!