Let's take a closer look at Blue Cat's PatchWork 2.1 free update that was released today and explore some of its new features!
25 Built-in Audio Effects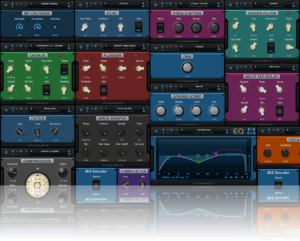 Blue Cat's PatchWork can now be used as a multi effects processor on its own:
With its new 25 built-in audio effects borrowed from Blue Cat's Late Replies, you can do a lot of things with PatchWork, without relying on third party plug-ins: it now includes a gate, compressor, ducker, delays, modulation effects, pitch and frequency shifters, a panner, EQ, waveshaper, bit cruasher, mid/side encoder and decoder…
And you can of course mix these effects together with your favorite VST, AU or VST3 plug-ins! Build your own channels strips and share them across multiple DAWs easily!
75 New Effect Presets
With these new built-in effects, we have also included 75 new presets to get you started, including multi-delays, pitch harmonies, channel strips, guitar effect chains…
Zoomable GUI
PatchWork 2.1's Graphical User Interface (GUI) can now be zoomed in or out (from 70% to 200%), with high resolution vector graphics:
You can now adapt the size of the user interface to your displays. Working far away from the screen? No problem! It will also make your life easier when working on high resolution touch screens with large fingers :-).
Loading PatchWork into PatchWork Made Easier
PatchWork is now available as a built-in effect: you can now load PatchWork into itself and share presets regardless of the plug-in format!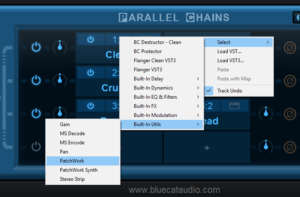 This is just an overview of the new features, you can view the full change list here.
Enjoy!