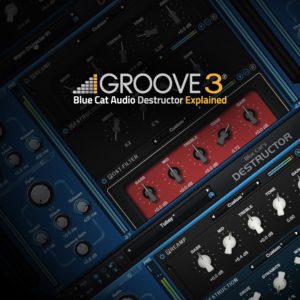 Our partners at Groove3 have released an awesome in-depth tutorial for Blue Cat's Destructor: all features of the plug-in are covered, from the straightforward easy-mode to the most advanced side chain distortion capabilities.
This tutorial is definitely recommended if you want to discover the plug-in or get the best out of it!
And you know what? This tutorial is entirely FREE: if you are not already a Groove3 customer, register on this page within two weeks, you get a free 30-days pass to watch not only this tutorial, but all others, including the PatchWork and MB-7 Mixer trainings!
Beware, that's more than 1200 hours of videos: it may keep you busy for a few days…